Meets the 2nd Thursday of the Month
Room #140 at 10:30 AM
Please bring a covered dish to share.
DMA Fellowship is a senior adult ministry for those 55 years of age and older.
The initials, "DMA" stand for "Don't Mention Age." This group was organized in 1987 for the purpose of spiritual fellowship, friendship and outreach for the Lord.  To join the DMA Fellowship an individual or spouse must be 55 years of age or older and attend at least one monthly luncheon or activity. Honorary membership is considered by recommendation of the officers for those not quite 55. All members are encouraged to purchase and wear the official DMA Fellowship name tag to all meetings and activities.
Officers of DMA Fellowship are elected each October, to serve a one year term. Officers must be members of Johnston Chapel Baptist Church. Serving until October 2020 are: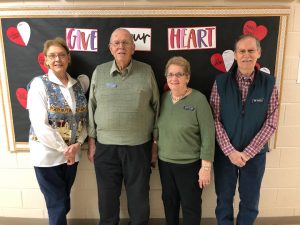 From left to right:
Shelia Dunavant- Treasurer, Harold Haldren – President, Louise Haldren – Secretary, Bob Worrell – Vice President.
Group leader is Pastor Jim Nofsinger
2020 DMA Fellowship Meetings:
January 9th – Mr. Matthew Schaetzle, the new director of the Abel Pregnancy Resource Center, will present our program.
February 13th – Connie Cochran, Director of Business Development at the Behavioral Health Pavilion of the Virginias, will present the program, "Aging and Depression: Recognizing Signs, Overcoming Stigma, and Seeking Treatment." Please bring soup, salad, sandwiches & sweets for lunch to share with one another.
March 12th – The Mercer Christian Academy Middle School & Senior High Choir, directed by Mrs. Alandra Blume Hinkle, will present a concert of sacred music.
April 9th – Rev. Norm Arrington, retired area minister, will present an Easter Monologue. Note: This meeting has been cancelled.
May 14th – Katherine Thompson, Chief Meteorologist of WVVA Television in Bluefield, WV, will present a program on weather forecasting in Southern WV.
June 11th – Covered dish picnic at the church pavilion at 6:00 p.m. A program of special music will be provided by 34Adonai, also known as the Garrett Sisters – Ireland, Arielle, & Amelia. Please note that this meeting will replace our regular morning meeting at 10:30 a.m.
July 9th –
August 13th – TBA
September 10th – TBA
October 8th – TBA
November 12th – TBA
December 10th – Annual Christmas Dinner, more info TBA. This dinner will replace our December monthly luncheon.
2020 DMA Fellowship Outings:
April 3rd 
We will travel north to the beautiful campus of Appalachian Bible College in Bradley, West Virginia, for their annual Spring Music Festival.  Dinner and shopping will take place at Tamarack, which features West-Virginia-made products, hand-made crafts, arts and cuisine.  The bus will depart from church at 4:00 p.m.  Cost is $2 per person.  See Pastor Jim Nofsinger to reserve your place on the bus. Note: The Spring Music Festival has been cancelled by ABC due to COVID-19 concerns.
May 19th – 21st  
Come and join this 3-day Dollywood Flower & Food Fest tour that will feature:
For a tour brochure with additional details and cost, contact Pastor Jim Nofsinger. A $50 deposit per person will reserve your place. Final payment is due by April 15th. Note: This event has been cancelled. 
June 27th
We will experience Anno Domini at NarroWay Productions, the premier Christian theater of the South, located outside of Charlotte, NC. Take in a delicious dinner and a hearty serving of Southern hospitality as every audience is greeted and served by the NarroWay cast. Anno Domini is the story of Stephen and the Apostles, where cowards become champions and the faith that revolutionized a world is born! Cost is $46 per person for transportation, meal and show. See Pastor Jim Nofsinger by May 14th to reserve your place.  The bus will leave from church at 8:00 a.m.
August 7th
At the Wohlfahrt Haus Dinner Theatre, we will see How Sweet the Sound, as we celebrate our gift of life through music and song! We will give thanks and praise to the Lord through inspirational hymns, soul-lifting spirituals and toe-tapping gospel selections. "O come let us sing unto the LORD; let us make a joyful noise to the rock of our salvation." (Psalm 95:1) Cost for transportation, matinee meal and show is $47 per person.  Make reservations with Pastor Jim Nofsinger by July 9th to reserve your place. The bus will leave from church at 11:15 a.m.
For additional information regarding DMA Fellowship contact the church office at (304) 425-6315 or Pastor Nofsinger.