Meets the 2nd Thursday of the Month
Room # 140 at 10:30 AM
Please bring a covered dish to share.
DMA Fellowship is a senior adult ministry for those 55 years of age and older.
The initials, "DMA" stand for "Don't Mention Age." This group was organized in 1987 for the purpose of spiritual fellowship, friendship and outreach for the Lord.  To join the DMA Fellowship an individual or spouse must be 55 years of age or older and attend at least one monthly luncheon or activity. Honorary membership is considered by recommendation of the officers for those not quite 55. All members are encouraged to purchase and wear the official DMA Fellowship name tag to all meetings and activities.
Officers of DMA Fellowship are elected each October, to serve a one year term. Officers must be members of Johnston Chapel Baptist Church. Serving until October 2020 are: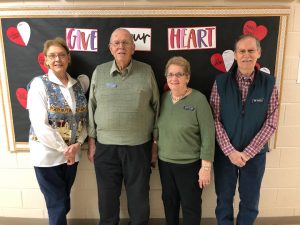 From left to right:
Shelia Dunavant- Treasurer, Harold Haldren – President, Louise Haldren – Secretary, Bob Worrell – Vice President,
Group leader is Pastor Jim Nofsinger
2019 DMA Fellowship Meetings:
January 10th – Cancelled due to inclement weather.
February 14th – "The Young at Heart Marriage Game." Please bring soup, salad, sandwiches & sweets for lunch to share with one another.
March 14th – Lisa Decker, the Director of Community Relation of The Havens at Princeton, will present the program, "Fall Prevention."
April 11th – The Mercer Christian Academy Middle School & Senior High Choir, directed by Mrs. Alandra Blume-Hinkle, will present a concert of sacred music.
May 9th – Glen Mitchell, the Executive Director of Tender Mercies Ministries, will present a program of this local food pantry for the needy.
June 13th – Attorney William S. Winfrey II will present the program, "Legal Checkup for Senior Citizens."
July 11th – Covered dish picnic at the church pavilion at 6:00 p.m. Please note that this meeting will replace our regular morning meeting at 10:30 a.m.
August 8th – Jamie Null, the Executive Director of the Mercer County Convention & Visitors Bureau, will highlight the unique heritage of Mercer County, West Virginia.
September 12th – Valerie Lamp, a Consumer Representative & Compliance Specialist of the Office of WV Attorney General Patrick Morrisey, will present a program on "Fraud & Identity Theft."
October 10th – Travis Pace, an Independent Agent with Aluity Insurance and Financial Services, will present "Making Medicare Simple."
November 14th – The Princeton Senior High School Madrigal Singers, under the direction of Mr. Allen Kade, will present a program of choral music with the theme of "Coming Home…of the spirit of the season."
December 12th – Annual Christmas Dinner at Coal Country Kandies & Café, 301 Mercer Street, at 6:30 p.m. This dinner will replace our December monthly luncheon.
2019 DMA Fellowship Outings:
April 6th
We will travel north to the beautiful campus of Appalachian Bible College in Bradley, West Virginia, for their annual Spring Music Festival.  Dinner and shopping will take place at Tamarack, which features West-Virginia-made products, hand-made crafts, arts and cuisine.  The bus will depart from church at 4:00 p.m.  Cost is $2 per person.  See Pastor Jim Nofsinger to reserve your place on the bus.
April 16th – 19th 
Come and join this 4-day Ohio Amish Country Adventure tour that will feature:
For a tour brochure with additional details and cost, contact Pastor Jim Nofsinger. A $100 deposit per person will reserve your place. Final payment is due by March 24th.
June 29th
We will experience Geronimo at NarroWay Productions, the premier Christian theater of the South, located outside of Charlotte, NC. Take in a delicious dinner and a hearty serving of Southern hospitality as every audience is greeted and served by the NarroWay cast. From the battle at Kaskiyeh to Geronimo's cry for revenge, the story of this great Apache leader comes to life. Intertwined with the moving narrative of a modern-day family, Geronimo is a triumphant story of hope and healing that transcends time. Cost is $46 per person for transportation, meal and show. See Pastor Jim Nofsinger by June 9th to reserve your place.  The bus will leave from church at 8:00 a.m.
August 12th
We will travel to the WV State Fair. The church bus will depart at 8:00 a.m. and return by 5:00 p.m. Cost for transportation is $3 and can be paid that morning. General gate admission is $11. See Pastor Nofsinger to reserve your place on the bus.
October 18th 
At the Wohlfahrt Haus Dinner Theatre, we will see "Ring of Fire," the story of the legendary "man in black" Johnny Cash as told through his music, taking you on a journey of passion, humor and salvation. It will feature over 30 great hit songs such as "I Walk the Line," "Folsom Prison Blues," "Jackson" and "Will the Circle Be Unbroken," all performed by a talented cast of singers/musicians.  "Ring of Fire" will be a celebration of one of the greatest musical superstars of our time and the "world's most famous rebel" – Johnny Cash!  Cost for transportation, meal and show is $47 per person.  Please make your reservation & payment by October 6th to reserve your place.  See Pastor Jim Nofsinger or bring it to the church office during normal hours. Your reservation can also be left in an envelope at the office drop box.  Checks should be made payable to "Johnston Chapel."  The bus will leave from church at 5:15 p.m.
For additional information regarding DMA Fellowship contact the church office at (304) 425-6315 or Pastor Nofsinger.